Welcome to Green Acres
Green Acres got its name because of the trees that covered the land. The trees helped give the development its special character – described by one resident as "a kind of rustic charm". Such care was taken by the builders to preserve as much of the woods as possible that many of the original owners found themselves faced with land-clearing chores rather than the landscaping work more common to brand new home owners. Many did plant flowers trees and shrubs of all varieties that prospered and added to the general lushness.
The sharp contrast with the traditional character of most construction in the Wilmington area at the time (and today for that matter), the design of the Green Acres houses was excitingly innovative. The intriguing and spacious model homes were a major factor in the choice of a Green Acres address for the original owners. One of the models had even been featured in Architectural Forum because of the large amount of space per dollar. Another unusual feature of the early Green Acres was the use of an "exterior decorator" who chose colors for the outsides of the homes so that they presented a harmonious front. Mr. and Mrs. Robert Akell of 1506 Fresno Road continued their original aqua color scheme until the paint was no longer available. They suggest that the striking diversity of the exteriors in the community can probably be attributed in part to the influence of the original decorator.
It took more than four years for all the buildings to be completed. From the first settlement on Grinnell, Quincy, Oberlin and Newcomb, the houses extended eastward on Athens, toward Tulane. A new model, the Cambridge, slightly less contemporary, became prominent and turned up in great numbers on Bucknell, Carson, Drake and Emory.
Another special feature of Green Acres, quite a novelty at the time, was a swimming pool. The construction of the first pool had proven such a success that a second one was begun for the residents who hadn't joined the first pool before the membership quota was filled. Until the membership of the two pools merged, Pool I and Pool II were strictly separate with the members of one forbidden to swim in the other.
The eventual blending of the memberships symbolized in a small way the happy blending of different nationalities, races, religious, ages and interests into one community. Some of the early residents say that the community has become increasingly cosmopolitan over the years, and they are delighted with the diversity.
Though there have been many changes in the surrounding area, the original owners' great liking for their community has helped make it what it is – a special place with a lively population graced by the natural beauty that gave it its name.
Arhart, Barbara. (1976, October). Green Acres - Then and Now; Green Acres News. Retrieved October, 2020, from https://greenacrescivic.org/history/
Green Acres Real Estate Market 2020 Recap
# of Homes Sold in 2020

18

Average Sale Price

$321,033

Sale Price/List Price

99.80%

Price Per Square Foot

$155.60
Location
Green Acres is a neighborhood in Brandywine Hundred, Wilmington, Delaware. Situated on Silverside Road in between Faulk Road and I-95, Green Acres residents have easy access to major roadways, shopping centers & local attractions.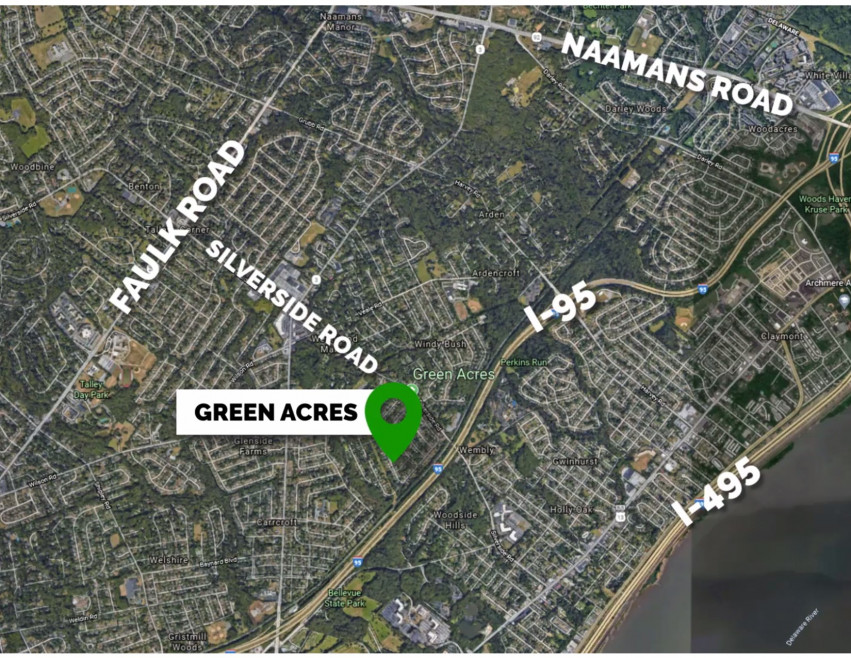 Real Estate
Established in 1955 by Franklin Builders, Green Acres is a unique community featuring 374 spacious homes among tall trees & tasteful landscaping providing residents an atmosphere of privacy & greenery.
Home Styles: Split Level & Contemporary
Bedrooms: 3-4
Bathrooms: 2-3
Square Feet: 2,000 - 2,500 SF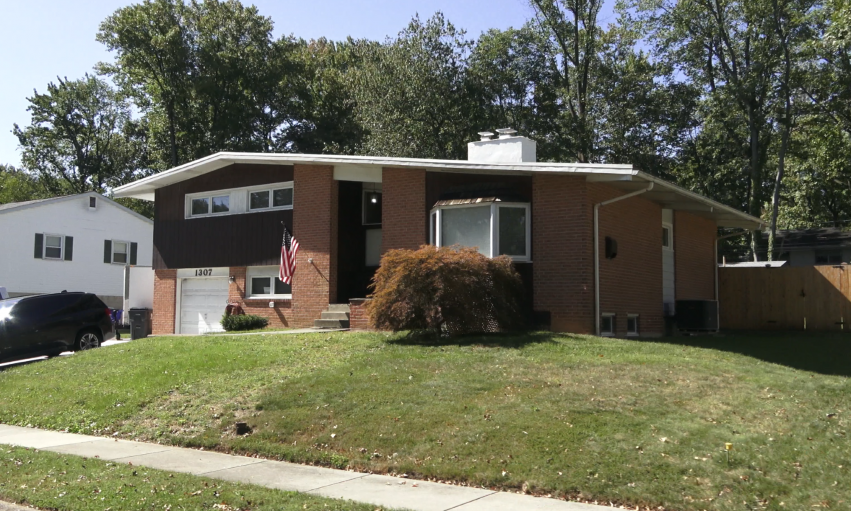 Swimming Facility
Green Acres is one of few neighborhoods to feature a swimming facility. The facility includes:
Full Size Lap Pool

Full Size Recreational Pool

Toddler Pool

Playground

Volleyball & Basketball
Additionally, Green Acres Pool has their very own Swim Team and hosts events such as Sunrise Swim and Pool Party Rentals.
CLICK HERE to learn more about Green Acres Pool.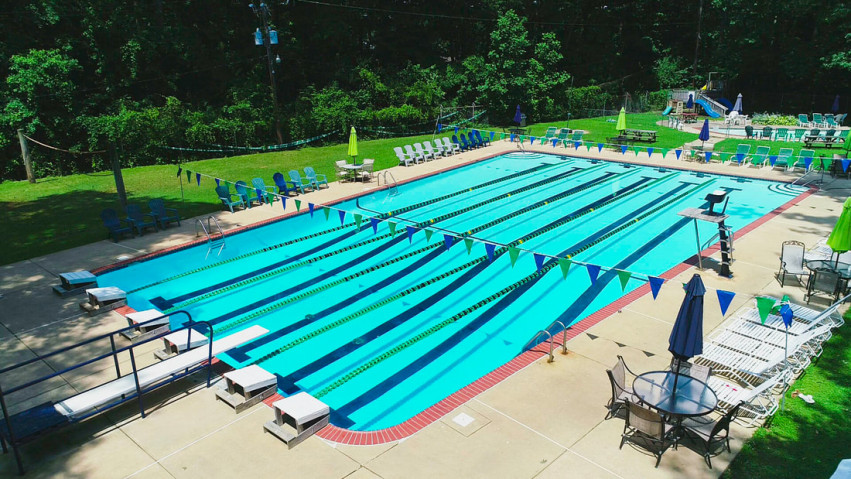 FUN FACT!
The streets of Green Acres are named after American Colleges & Universities.
Athens College, Bucknell University, Carson-Newman College, Drake University, Emory University, Fresno State College, Grinnell College, Newcomb Women's College, Oberlin College, Quincy College, Radford Women's College, Stanford University, & Tulane University.
Local Attractions
Just down the road from Green Acres you'll find:
Bellevue State Park: Bellevue Hall (pictured) is surrounded by tennis courts, equestrian stables, gardens, and a picturesque fishing pond, amid woodlands and fields overlooking the Delaware River. Explore hiking/biking trails or go for a run on the 1-and1/8-mile fitness track.
BranMar Plaza: ACME, Walgreens, Hallmark, Action Hardware, M&T Bank, BranMar Liquors, ATI Physical Therapy, Anytime Fitness & more.
Shoppes at Graylyn: Rite Aid, Ulysses Pub, Concord Pet Foods & Supplies, Dunkin, Einstein Bros Bagels, UPS Store, plus many more!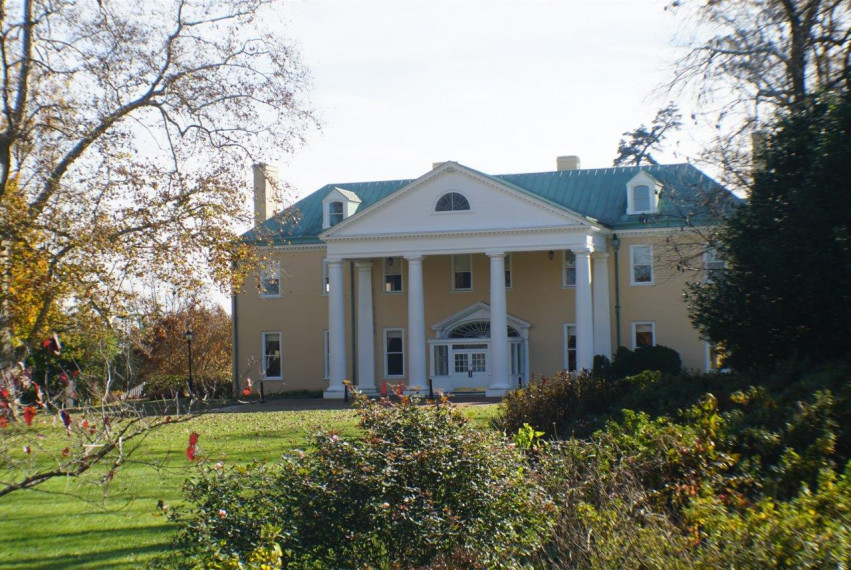 Schools
Green Acres is in the Brandywine School District. Residents who choose public school will attend Carrcroft Elementary, Springer Middle School, & Mount Pleasant High School (Pictured).
New Castle County, DE, also has some of the best private schools including Salesianum School, Padua Academy, Ursuline Academy, and many others!